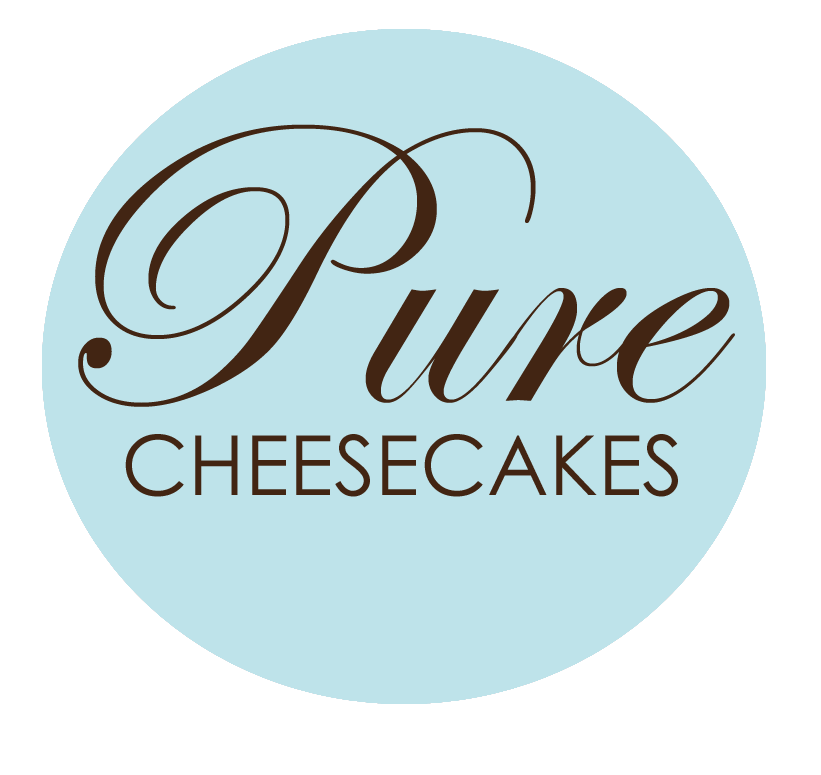 pure ingredients • pure satisfaction • pure taste • pure quality • made with pure love • purecheesecakes
People Say the Sweetest things!
HERE ARE JUST A FEW...
"Pure Cheesecakes are so fabulously delicious, light, beautiful, and so precisely created. Their cheesecakes are perfection. If their cheesecakes were a chair they would be a walnut Eames rocker because they're just so thoughtfully made, and so simply beautiful..."
"Service is SUPERB! I'm speechless. =) and the taste is ohh so fabulous! I love it."
"Just wanted to drop you a short note to let you know how pleased everyone was with the service and cheesecake. Passed out your business cards at the shower. Thanks again those were the best cheesecakes...especially the creme burlee. What a hit!"
"Just wanted to thank you for helping me send a wonderful birthday surprise to my son in early April. It was phenomenal service: from calling me back to verify my confusing messages concerning my order, to calling my son to make sure he would be there to receive his birthday surprise, to having him call me to tell me how delicious the cheesecake was....You were terrific! THANK YOU SO MUCH!"
"Thank you. It has been a pleasure working with you. I just received a phone call from my son, Jason, saying he received the cheesecake and that it not only looks beautiful, but it tastes great too. He was very surprised. Thank you!!
"Everyone loves the cheesecakes! They are fabulous. Thank you so much for being early and doing such a great job! The only thing is that I am bummed I was not here to meet you guys... maybe another time. Thanks so much!"
"Thank you for the personal service, Lynn will be very surprised and Happy. Customer service is so important, and you have shown your company knows how to work with it's customers"
"The cheesecakes were absolutely delicious, thank you. My expectations were more than met and we very much enjoyed the cheesecakes"
"U have a great product that is yummy and elegant.!!! Its great for me to find something yummy elegant and reliable yet so reasonable to send people! Thank u!!! "
"I'm excited: your cakes looked perfect and yummy...and sized just right for a fashion crowd ;) if i have to send thank yous again i will totally think of you guys! thanks!"
"My boyfriend got the cheesecakes already. He loves them! Thank you sooo much. He was really surprised he called me up immediately when he got a call from you guys confirming you'll be delivering something for him. Thanks!"
"I am so glad that I was introduced to your product. Your cheesecakes are exceptional and so much more fun than the cookies and muffins that are on the market".
"You just dropped off the cake and it is absolutely PERFECT! It's so beautiful and it looks delicious. I couldn't have asked for anything better! :) Thank you again! I can't wait to taste it. Have a lovely weekend"
"Our daughter sent us a gift of your cheesecakes. They were fabulous. Just the right size, just the right flavors, and on top of that, you were kind enough to drive all the way over to deliver them to us. We thank you, and wish you great success with your business".
"I didn't think the cheesecakes could taste anywhere as good as they look. They are BETTER! I don't know how you do it but I want more! Thank you."
"I just wanted to take a moment to thank you for your wonderful cheesecakes and strawberries. The desserts were a huge success. Everyone kept getting up to try a new flavor. It was the highlight of our party. I just wanted to give you a HUGE compliment on your great product. You guys will be first on our list when we need dessert for our future events. I wish your company much success."
"When I originally ordered from you, I knew you delivered. Nothing else. I wasn't even thinking about the requirement for immediate refrigeration and having my son be at home (I was thinking roommates, front desk, etc.). Additionally, I was hoping for the possibility of an exact birthday delivery, but not relying on it. Although I did know about 2 choir practices and tour guide meetings, I still had idea no Paul's schedule would be quite as crazy as it was.
Thus, by tracking my son down and delivering at all hours of the evening to ensure a birthday surprise; it seems to me your company went way beyond the usual delivery requirements to provide individualized attention and detailed customer assistance. I cannot thank you enough for your outstanding and thoughtful services.
I wish I lived in the LA area so I could spread the word more readily. I will keep all your information and pass it on wherever I can.
Needless to say my son (plus friends and roommates), tells me they all enjoyed every bite of your amazing Cheesecakes!
Thank you again."
"I would just like to take a moment and thank you and your team for the beautiful cheesecake. It was a hit with my boyfriend and the family. I couldn't be more pleased with the quality of service you all provided in everything from the order to the delivery. Your cheesecake made for a lovely birthday. Thanks again for everything! Have a great day!"
"Thank you so much for all your help! My friend LOVED the cheesecakes and the surprise! I really appreciate your superb customer service and wish you the best luck with your amazing brand. I will be contacting you in the future for more of your yummy cheesecakes! Thank you again! :) Have a wonderful day! Best."
"Just a quick and massive thanks to you. The cheesecakes arrived in perfect time, in fabulous condition and we are told tasted wonderful. A truly wonderful service from you for which we thank you very much. Will be recommending you to anyone that wants to send cheesecake!!! A million thanks"
"The cheesecakes were the hit of the party! They were incredible and just absolutely the right size to serve at our holiday party. I passed out the cards that came with the boxes to several of the guests, and we will definitely be ordering again for our next gathering. Thank you very much."
"Thank you for these incredible cheesecakes...so good. I will keep you in mind for parties etc."
"Love these mini cheesecakes, they are the perfect size and taste great. The service is excellent - Thank you!!!"
"Over the holidays, I ordered a custom assortment of your delicious cakes to take to a special friend of mine whom I was visiting in Shanghai, China. I froze the cakes and used dry ice to keep them cold on the 13-hour flight over. A while after I got settled in, I presented the enchanted box to her, and as she opened it she was exhuberant, to say the least! Since cheesecake is BOTH of our favorite foods, this was no ordinary delivery! Our mouths watered, and as we indulged in each of the EIGHT varieties I brought over, there was nothing but absolute bliss. The cakes held both their appearance and their taste perfectly, and our hearts were forever won to your culinary masterpies. Thank you for your help and your gift, shared through your business! Myself and my fiancee know where to go for the undoubtedly best cheesecake in L.A., maybe the Universe! God bless you!"
"Thank you so much. I can't tell you how much we enjoyed yesterday's cheesecakes".
"You made my day! Not only is Top Chef-Masters on tonight, but now I get to enjoy Pistachio Cheesecake too!! Which, is really hard to find in this town btw!! THANK YOU!"
"Thanks, they were great and everybody loved them. Great job – awesome, quality, perfect service."
"Your cheesecakes were absolutely beautiful and delicious. We all enjoyed them VERY much. They arrived in plenty of time for our dessert and everyone was so taken with them. They tasted like you had just made them. I gave everyone a card so I hope you will be hearing from them. Again, thank you very much. You should have great success. You really deserve it."
"THANK YOU!!!! :) You guys are great!!!"
"Did I tell you how awesome you are? Thank you so much...you always come through for me year after year!!!"
"You have been fabulous. Thanks so much!"
"I was looking for the Best Cheesecakes in Los Angeles - and I found them! Hand downs, these are the best... Thanks so much!!!"
"I just want to let you know how much my husband and I enjoyed your cheesecakes. They were delicious. ;)
Not to mention the flavor of each cheesecakes, I loved all the details you put to it: decoration of the cheese cake, box, ribbon, etc. A box of cheese cakes are a bit too much to order regularly for just two of us, but we will definitely keep your information for future events such as birthday. I will definitely recommend your cheesecake to my friends. :) Thank you for the wonderful cheesecakes. Have a good day!"
"I just wanted to say that the cheesecakes are seriously little works of art- thank you so much- they will be the star at our little birthday soiree tomorrow night- that is if we can control ourselves enough to not eat them today---- torture! Thanks again."
"Hi there – the cheesecake was a big hit! Separately, someone had sent a Bundt cake and it hardly got eaten. The cheesecake was gone in no time."
"I want to thank you for delivering your luscious cheesecakes to the Restaurant last Tuesday for a surprise Birthday Party. Pattiy gave me your name & contact information & I cannot even begin to tell you what a big hit they were. The evening was full of surprises & to top it all off with my favorite part of any meal.....DESSERT!!! The cheesecakes made my entire night :) I do hope to meet you in the future & to order up some sweets again. Thank you & wishing you a safe 4th of July!"
"Just a quick note to thank you for the delicious cheesecakes. They were a hit and everyone asked for your contact details. Thanks again for being so accommodating. All the best."
"I just wanted to take a moment and thank you for the beautiful cheesecakes for Lacey and Marco's wedding. They arrived at exactly the right moment in perfect condition. They were all totally delicious, and I know that our guests were impressed with their quality. Thank you for doing such an awesome job! We all appreciate it and will be happy to recommend your product anytime!"
"Just wanted to compliment you on your quality , taste and presentation. I got a gift and it was a class act all the way around. Continued success to you all."
"Thanks for everything! The cheesecakes were fantastic! I particularly enjoyed the egg nog one. Yum! I hope your holiday was grand! Have a wonderful new year."
"THANK YOU VERY MUCH FOR THE BEAUTIFUL AND WONDERFUL TASTING CHEESECAKES. MY CLIENT WAS THRILLED AND RECEIVED MANY MANY COMPLIMENTS ABOUT THEM. I ALSO APPRECIATE THE EFFORT AND TIME YOUR DRIVER PUT IN MAKING THINGS AS SIMPLE AS POSSIBLE FOR MY DRIVER. I WILL DEFINITELY ORDER YOUR CHEESECAKES AGAIN FOR MY FUTURE EVENTS. HAPPY HOLIDAYS!"
"I was looking for something unique to send my daughter for her Birthday (the cupcake craze is SO yesterday ;), and I stumbled across Pure Cheesecakes on YELP. All I can say is...WOW! She was so delighted with the presentation and originality, but more importantly, she RAVED about how your cheesecakes were 'best she's ever tasted'! Thank you SO much for working with me on short notice to deliver such a special surprise! My only complaint is that I don't live in LA and can't enjoy them myself!"
"I ordered the small cakes for a NEW YEAR'S EVE bash, they were a hit! We all loved them and everyone asked where to buy more...I will order more for our next OCSAR PARTY as well....so cool that they deliver them to your door and the price is no more, in fact, less than some you have to order and pick up.....buy your desserts here!!"
"I sent these to my son for his birthday. He called to tell me they had arrived and said " I know these must have been really expensive because they were packaged and delivered in such a classy manner!" then he tasted one while on the phone with me and said it was without a doubt the best cheesecake he had ever tasted! As a Mom thousands of miles away from my child on his birthday, the caring and incredible service by Patricia and the quality of the cakes made this the best deal in town for our family. Patricia not only checked on the best time for the cakes to be delivered she emailed me to let me know the package had been hand delivered to my son.
 The amazing service and the rave reviews on the cheesecakes means I am keeping this company on speed dial!
"
"It was PERFECT! Absolutely beautiful and delicious! I couldn't have asked for anything better for my very special Wedding day... :) You have to have them!!! I will order again for all my parties, get-togethers, and just to indulge!"
"Thank you so much for the excellent service and delicious cheesecakes. Everything worked out perfectly and our guests loved the delicious treats! So did my daughter. Thank you for making her first birthday extra special."
"I tried your cheesecakes last night at the gala, and I'm speechless. They were the most amazing treat I've enjoyed in I don't even know how long. In an evening of many fantastic treats, yours really stood out! Thank you!"
Los Angeles Magazine, Marketing Manager
BEST CHEESECAKES IN LOS ANGELES!
Please reload